Corn Humitas with blue cheese
Chef: Richard Fletcher
Main Ingredient: corn
Meal Type: Dinner
Food Type: Vegetarian
Level:Easy
Prep Time:15 minutes
Cook Time:25 minutes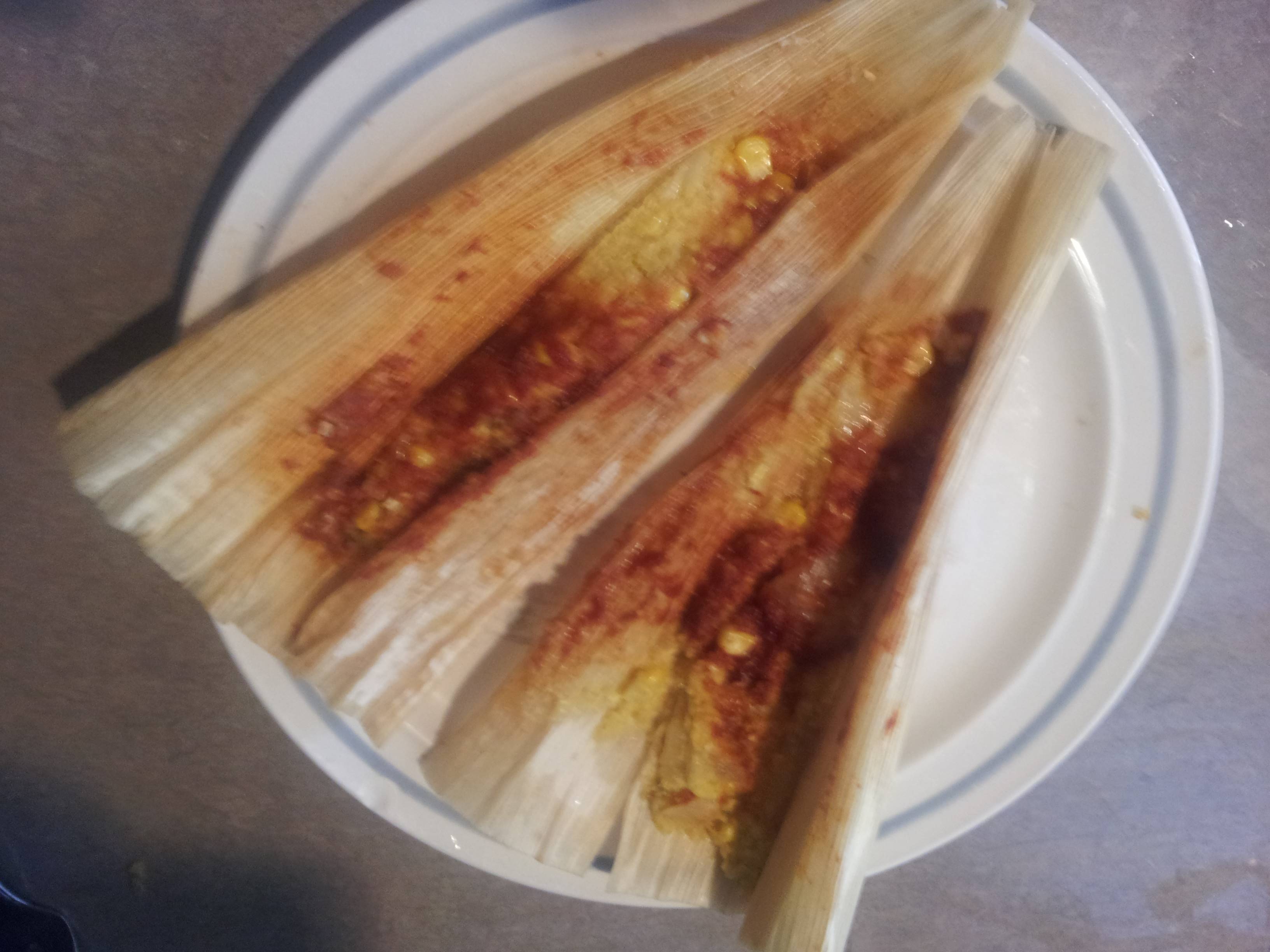 Here's another version of Corn Humitas.
10 whole corn husks
1 tbsp, leaves basil
1 tbsp paprika
1/4 cup Corn flour, masa, enriched, yellow
10 ear, large (7-3/4" to 9" long) yields corn | corn on the cob
1 large onion
2 cloves garlic
1 whole jalapeno Pepper
1 tbsp olive oil
1 oz blue cheese
1 whole chipotle peppers in adobo sauce
Recipe
Soak the corn husks in a bowl of warm water.
Chuck the corn. With a knife take off the corn kernels and add to blender. Blend and stir with a spoon. You don't want to blend until smooth. It should be chunky.
Add olive oil to pan. Sauté the onions, garlic and jalapeno Pepper. Sauté until the mixture is golden brown. Add the corn mixture from the blender. Cook and stir for around 5 minutes. Add the corn meal. Cook for around 10 minutes until mixture becomes somewhat thick. Add the blue cheese and adobo sauce.
Spread the dough out over the corn husks to 1/4 to 1/2 inch thickness. Fold the sides of the husks in toward the center and place in a steamer. Tie string around the tamales to ensure the filling doesn 't come out.
Steam for 25 minutes.
Nutritional information
Nutrition Facts
Serving Size 1 Corn Humitas with blue cheese
Servings Per Batch 10
Amount Per Serving
Calories167
Calories from Fat 4
% Daily Value *
Total Fat 4g
7%
Saturated Fat 1g
6%
Monounsaturated Fat 2g
Polyunsaturated Fat 1g
Trans Fat 0g
Cholesterol 2g
1%
Sodium 63mg
3%
Potassium 454mg
13%
Total Carbohydrate 32g
11%
Dietary Fiber 4g
15%
Sugars 10g
Protein 6g
12%
Vitamin A
13%
Vitamin C
22%
Calcium
3%
Iron
1%
* The Percent Daily Values are based on a 2,000 calorie diet, so your values may change depending on your calorie needs. The values here may not be 100% accurate because the recipes have not been professionally evaluated nor have they been evaluated by the U.S. FDA.