Corn Soup with Roasted Peppers
Chef: Richard Fletcher
Main Ingredient: corn
Meal Type: Dinner
Food Type: Vegan
Level:Easy
Prep Time:15 minutes
Cook Time:30 minutes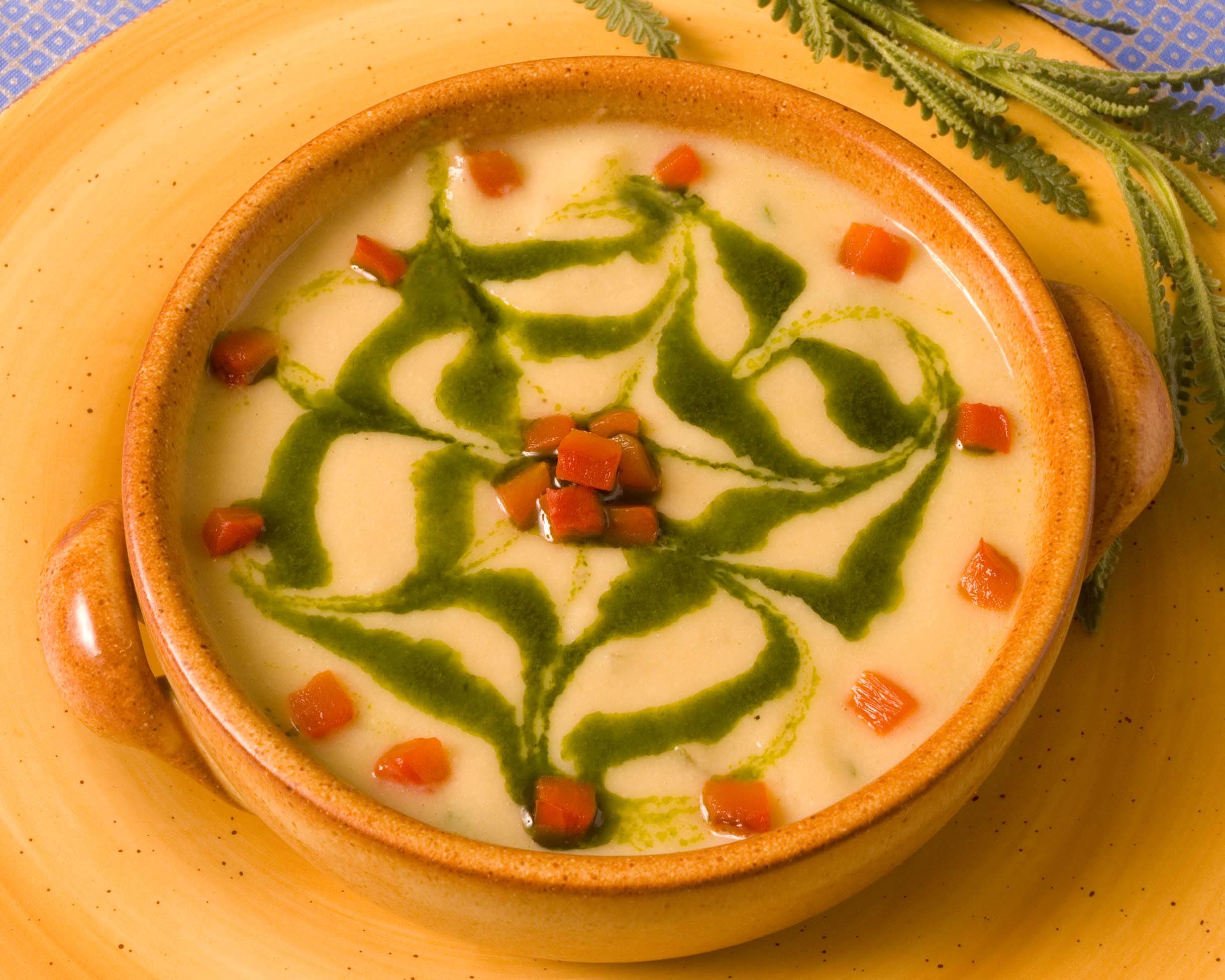 This is a recipe from my dear friend Alan Roettinger who I met in Mexico City many moons ago. He is probably the best chef I have ever met. I would highly recommend any one of his cook books. You can buy them on his site. 
Visit Alan 's site!
Alan is a writer, food designer, blogger, and public speaker. He has served clients as a private chef in the United States, Europe, and Australia. Raised in Mexico City, he acquired a taste for exotic food early on and soon developed a passion for flavor and beauty that drives his diverse, creative culinary style.
Most people will swear there is cream in this soup, although there isn't even any milk. Even hard-core meat eaters will enjoy this. Kids love it.
2 tablespoons olive oil
1 large onion
10 cloves garlic
salt to taste
dash black pepper 
8 cup vegetable broth
8 cups corn 
1 small red pepper
1/2 cup green Pepper
4 large scallions 
16 tbsp Udo Choice® Oil
2 1/2 cups fresh cilantro
Recipe
Heat the olive oil in a heavy pan over a moderate flame. Add the onions and garlic, stir and reduce the flame to low. Cover the pot and allow the vegetables to sweat until very soft and aromatic. Add the broth, increase the heat and bring to a boil. Add the corn and bring to a simmer. Cover the pot, adjust the flame to keep a steady low simmer, and cook until very tender, about 30 minutes. Scoop out about 1 ½ cups of the corn with a slotted spoon and reserve.
Working in small batches, puree the soup in a blender and strain, discarding the tough skins. Return to the pot and add the reserved corn, along with the diced peppers. If the soup is too thick, add a little broth. Just before serving, turn off the heat and stir in the scallions. Ladle into soup bowls and garnish with a drizzling of Cilantro or Oregano oil. For a more elegant presentation, fill a parchment cornet with the oil and pipe two thin, concentric circles on the surface of the soup, then draw a toothpick back and forth through them to form a decorative flourish.
*To make the Cilantro Udo's Oil, blanch 2 ½ cups packed cilantro leaves and upper stems in boiling water for 15 seconds, strain, and then immediately shock in plenty of ice water. Chop coarsely and squeeze out excess water. Put in a blender with 8.5 oz. Udo's Choice
3-6-9 Oil Blend, 1 small serrano chile (optional) and ¼ teaspoon unrefined sea salt. Process on high speed for about 2 to 3 minutes, until the mixture turns bright green. Strain through several layers of cheesecloth and store in the refrigerator. You can use the oil as is, or allow it to settle for a few hours and then decant to a clean bottle, discarding any residue which has gathered at the bottom the container. This oil will keep for about 1 week in the refrigerator.
Nutritional information
Nutrition Facts
Serving Size 1 Corn Soup with Roasted Peppers
Servings Per Batch 4
Amount Per Serving
Calories1475
Calories from Fat 2
% Daily Value *
Total Fat 68g
105%
Saturated Fat 10g
52%
Monounsaturated Fat 19g
Polyunsaturated Fat 37g
Trans Fat 0g
Cholesterol 0g
0%
Sodium 1162mg
48%
Potassium 1029mg
29%
Total Carbohydrate 201g
67%
Dietary Fiber 20g
78%
Sugars 9g
Protein 19g
38%
Vitamin A
51%
Vitamin C
85%
Calcium
9%
Iron
7%
* The Percent Daily Values are based on a 2,000 calorie diet, so your values may change depending on your calorie needs. The values here may not be 100% accurate because the recipes have not been professionally evaluated nor have they been evaluated by the U.S. FDA.