Hot Eggplant and Seitan Open-Face Sandwiches
Chef: Richard Fletcher
Main Ingredient: eggplant
Meal Type: Lunch
Food Type: Vegan
Level:Easy
Prep Time:15 minutes
Cook Time:15 minutes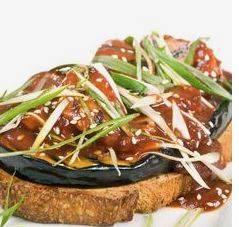 This is a recipe from my dear friend Alan Roettinger who I met in Mexico City many moons ago. He is probably the best chef I have ever met. I would highly recommend any one of his cook books. You can buy them on his site. 
Visit Alan 's site!
Alan is a writer, food designer, blogger, and public speaker. He has served clients as a private chef in the United States, Europe, and Australia. Raised in Mexico City, he acquired a taste for exotic food early on and soon developed a passion for flavor and beauty that drives his diverse, creative culinary style.
Here 's Alan 's comment on this receipe.
I was imagining possible ways to use seitan when this combination came to me. Even my eighty-four-year-old mother enjoyed it. If you have any fresh shiitake mushrooms, they would go well too; slice them and add them to the sauce.
1 whole Eggplant

3 tablespoons olive oil

2 teaspoons toasted sesame oil

1/4 teaspoon sea salt

1 cup tomato puree

4 tablespoons hoisin sauce

1 tablespoon agave nectar

8 oz seitan

4 large slices sourdough bread or your favorite French bread

8 large scallions

1 tablespoon sesame seeds
Recipe
Preheat the oven to 450 degrees F. Put a baking pan on the middle rack.
Heat a stovetop grill over high heat.
Prepare the eggplant while the oven and grill are heating. Cut a lengthwise strip off both sides of the eggplant to expose the flesh. Cut the eggplant into 4 thick slices parallel to the cut sides. Combine the almond oil with 1 teaspoon of the sesame oil in a small bowl. Brush the eggplant slices very lightly on both sides with about half of the oil mixture. Arrange them in a single layer on a plate or tray. Sprinkle both sides of the eggplant slices with the salt.
Put the eggplant on the hot grill and cook for about 5 minutes on each side. Transfer the eggplant to the baking pan in the oven. Keep the grill hot.
To make the sauce, combine the tomato purée, hoisin sauce, agave nectar, and remaining teaspoon of sesame oil in a small saucepan over medium heat.
Toss the seitan slices with the remaining oil mixture. Put them on the grill and cook for about 3 minutes on each side.
Add the seitan to the sauce and stir well. Decrease the heat to keep the sauce and seitan hot but not bubbling.
Toast the bread slices and put one slice on each plate. Put an eggplant slice on each piece of toast. Divide the hot seitan and sauce among the 4 slices, covering the eggplant. Sprinkle with the scallions and sesame seeds. Serve at once.
Nutritional information
Nutrition Facts
Serving Size 1 Hot Eggplant and Seitan Open-Face Sandwiches
Servings Per Batch 4
Amount Per Serving
Calories64
Calories from Fat 3
% Daily Value *
Total Fat 0g
0%
Saturated Fat 0g
0%
Monounsaturated Fat 0g
Polyunsaturated Fat 0g
Trans Fat 0g
Cholesterol 0g
0%
Sodium 8mg
0%
Potassium 315mg
9%
Total Carbohydrate 26g
9%
Dietary Fiber 6g
23%
Sugars 10g
Protein 2g
4%
Vitamin A
8%
Vitamin C
38%
Calcium
1%
Iron
1%
* The Percent Daily Values are based on a 2,000 calorie diet, so your values may change depending on your calorie needs. The values here may not be 100% accurate because the recipes have not been professionally evaluated nor have they been evaluated by the U.S. FDA.