Asparagus with Cannellini
Chef: Richard Fletcher
Main Ingredient: Asparagus
Meal Type: Dinner
Food Type: Vegan
Level:Easy
Prep Time:10 minutes
Cook Time:5 minutes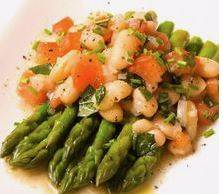 This is a recipe from my dear friend Alan Roettinger who I met in Mexico City many moons ago. He is probably the best chef I have ever met. I would highly recommend any one of his cook books. You can buy them on his site. 
Visit Alan 's site!
Alan is a writer, food designer, blogger, and public speaker. He has served clients as a private chef in the United States, Europe, and Australia. Raised in Mexico City, he acquired a taste for exotic food early on and soon developed a passion for flavor and beauty that drives his diverse, creative culinary style.
Here 's Alan 's comment on this receipe.
This is one of those Mediterranean-style dishes that are perfect served hot, at room temperature, or cold—wonderfully versatile for entertaining. Throwing the tomato and basil in at the end, off the heat, is the secret to the success of this feat of flavor and texture. If at all possible, use freshly picked, vine-ripened tomatoes and very fresh, verdant basil; even the most pedestrian can of cannellini beans will magically come to life under the touch of these two ingredients alone.
1 1/8 tablespoon sea salt
2 tablespoons olive oil
1 cup finely diced red onion
2 cloves garlic
1 can 15 oz cannellini beans, with liquid
1/2 teaspoon red wine vinegar
1/4 teaspoon black pepper
1 lb asparagus (6 inch long )
1 medium tomato
1/4 cup leaves, whole fresh Basil | basil leaves
2 tablespoons flax oil
1 tablespoon snipped fresh chives (optional)
Recipe
Fill a large pot of water. Add 1 tablespoon of the salt. Cover and bring to a boil over high heat.
Meanwhile, put the olive oil in a large pan over medium-low heat. Add the onion, stirring well. After 1 to 2 minutes, when the onion juices begin to flow, squeeze the garlic through a garlic press directly into the pan. Add the cannellini beans and their liquid along with the vinegar, pepper, and remaining 1/4 teaspoon of salt. Stir thoroughly but gently, to avoid crushing any of the beans. Bring to a simmer, and then decrease the heat to very low and cover. Continue to cook, stirring often, while you prepare the asparagus.
When the pot of water comes to a rolling boil, drop in the whole asparagus spears and stir once. Depending on the thickness of the asparagus, they should be just tender-crisp in about 1 minute. When they are done to your satisfaction, drain well.
Remove the beans from the heat and stir in the tomato, basil, and flax oil.
Divide the asparagus among 4 plates. Top with the bean mixture. Garnish with the chives, if using. Serve at once.
Nutritional information
Nutrition Facts
Serving Size 1 Asparagus with Cannellini
Servings Per Batch 4
Amount Per Serving
Calories202
Calories from Fat 82
% Daily Value *
Total Fat 9g
14%
Saturated Fat 1g
5%
Monounsaturated Fat 5g
Polyunsaturated Fat 1g
Trans Fat 0g
Cholesterol 0g
0%
Sodium 224mg
9%
Potassium 404mg
12%
Total Carbohydrate 21g
7%
Dietary Fiber 2g
8%
Sugars 4g
Protein 9g
17%
Vitamin A
22%
Vitamin C
48%
Calcium
8%
Iron
13%
* The Percent Daily Values are based on a 2,000 calorie diet, so your values may change depending on your calorie needs. The values here may not be 100% accurate because the recipes have not been professionally evaluated nor have they been evaluated by the U.S. FDA.