Chili Relanos
Chef: Richard Fletcher
Main Ingredient: Chilli Pepper
Meal Type: Dinner
Food Type: Vegetarian
Level:Easy
Prep Time:40 minutes
Cook Time:20 minutes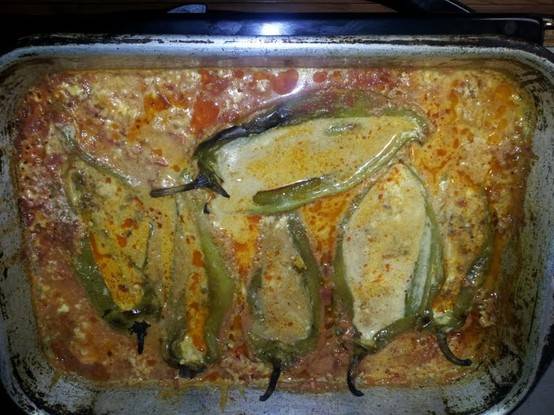 I have had this dish probably over a hundred times in my life and I must say this is the best one I have ever tasted. This is a different way of making Chile Relanos. I really do not like to deep fry my food. This version for me tastes better. Most Chile Relanos are not cooked properly. The batter is to thick.                   
6 whole Anaheim Chile peppers
1/2 cup Mole sauce
1 cup queso fresco
3 cups tomato sauce
1 tablespoon apple cider vinegar
1 tablespoon cumin powder
Recipe
Heat tomato sauce with vinegar and cumin
If you have a gas range char the Chilies until the skins are blistery otherwise broil them until they are blistery. Once done put in paper bag. Allow to sit for 10 minutes then peel the chilies.
Stuff each pepper with a strip of cheese along with a tablespoon of mole.
Put in casserole pan.
After stuffing last Chile pour tomatoes sauce over the chilies along with Mexican crema.
Cook at 350 for 20 minutes.
Nutritional information
Nutrition Facts
Serving Size 1 Chili Relanos
Servings Per Batch 4
Amount Per Serving
Calories173
Calories from Fat 2
% Daily Value *
Total Fat 8g
12%
Saturated Fat 4g
20%
Monounsaturated Fat 2g
Polyunsaturated Fat 1g
Trans Fat 0g
Cholesterol 21g
7%
Sodium 257mg
11%
Potassium 865mg
25%
Total Carbohydrate 19g
6%
Dietary Fiber 4g
15%
Sugars 12g
Protein 9g
18%
Vitamin A
34%
Vitamin C
183%
Calcium
21%
Iron
3%
* The Percent Daily Values are based on a 2,000 calorie diet, so your values may change depending on your calorie needs. The values here may not be 100% accurate because the recipes have not been professionally evaluated nor have they been evaluated by the U.S. FDA.