Bitter Melon Salad
Main Ingredient: Bitter Melon
Meal Type: Dinner
Food Type: Vegan
Level:Easy
Prep Time:10 minutes
Cook Time:10 minutes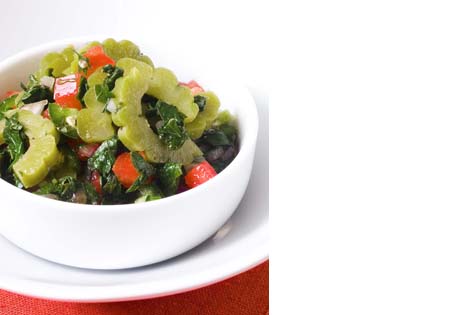 This is a recipe from my dear friend Alan Roettinger who I met in Mexico City many moons ago. He is probably the best chef I have ever met. I would highly recommend any one of his cook books. You can buy them on his site. Visit Alan 's site!    Alan is a writer, food designer, blogger, and public speaker. He has served clients as a private chef in the United States, Europe, and Australia. Raised in Mexico City, he acquired a taste for exotic food early on and soon developed a passion for flavor and beauty that drives his diverse, creative culinary style.   Bitter melon is one of those things you either love or hate. It has a very bitter taste (hence the name), but it does grow on you if you can deal with the initial shock. It is extremely good for you. In Chinese medicine, it's used as a medicinal herb for treating all sorts of ailments, including diabetes and anemia. The best variety is found at Indian Groceries, where it's known as "karela". While you're there, also ask for "methi", which is fenugreek (make sure you indicate fresh leaves, as opposed to the seeds). It looks a bit like a cross between cilantro and clover. Both bitter melon and fenugreek are powerful blood purifiers and tonics. This particular salad has the added advantage of perking up the appetite. Once you "get" the taste for it, you'll be hooked for life.    
Ingredients
4 medium bitter melons
2 bunch raw fenugreek

1 large red onion

1 large tomato

¼ cup lemon juice

4 tbsp Udo Choice® Oil
Recipe
Split the bitter melons in half lengthwise and scrape out the seeds with the tip of a spoon. Slice them fairly thinly (about 1/8 inch) into little arcs. Bring about one quart of water to a boil and blanch the slices for about 2 minutes, until tender-crisp. Scoop out with a slotted spoon and let cool. Remove the coarse stems from the fenugreek and blanch in the same water for about 30 seconds, drain and immediately quench in cold water. Drain well, squeezing out the excess water, then chop coarsely. Don't throw out the water – drink it!
Mix all the ingredients together and toss well. Serve as a first course to your most adventurous friends.
Nutritional information
Nutrition Facts
Serving Size 1 Bitter Melon Salad
Servings Per Batch 4
Amount Per Serving
Calories166
Calories from Fat 1
% Daily Value *
Total Fat 14g
21%
Saturated Fat 2g
10%
Monounsaturated Fat 3g
Polyunsaturated Fat 8g
Trans Fat 0g
Cholesterol 0g
0%
Sodium 6mg
0%
Potassium 367mg
10%
Total Carbohydrate 5g
2%
Dietary Fiber 4g
16%
Sugars 0g
Protein 3g
6%
Vitamin A
12%
Vitamin C
174%
Calcium
22%
Iron
6%
* The Percent Daily Values are based on a 2,000 calorie diet, so your values may change depending on your calorie needs. The values here may not be 100% accurate because the recipes have not been professionally evaluated nor have they been evaluated by the U.S. FDA.