Raw Beet Wrap
Main Ingredient: beets
Food Type: Vegan
Level:Easy
Prep Time:20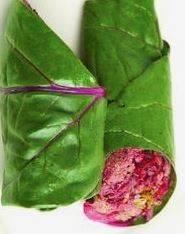 This is a recipe from my dear friend Alan Roettinger who I met in Mexico City many moons ago. He is probably the best chef I have ever met. I would highly recommend any one of his cook books. You can buy them on his site. Visit Alan 's site!    Alan is a writer, food designer, blogger, and public speaker. He has served clients as a private chef in the United States, Europe, and Australia. Raised in Mexico City, he acquired a taste for exotic food early on and soon developed a passion for flavor and beauty that drives his diverse, creative culinary style.   Here 's Alan 's comment on this receipe.   This snack will require beets with large, very fresh tops, because the leaves will be used as the wrap. And although it's a quick snack to prepare, it will also require a little forethought, because the nuts need to be soaked beforehand. Other than that, it's a snap—and a nutritious, slightly messy, eat-with-your-hands indulgence. Full disclosure: I never would have thought of this if my wife hadn't grown a jungle of beets and basil one summer.
Ingredients
1/2 cup almonds
1/2 cup, whole Nuts, brazilnuts, dried, unblanched

1/4 cups

1 cup leaves, whole fresh Basil | basil leaves

 leaves

1/4 teaspoon sea salt

2 tablespoons flax oil

1/2 cup finely diced red onion

1/2 cup finely diced celery hearts, including leaves

1 cup grated beets

1 tbsp Lemon peel, raw
4 tbsp Balsamic Vinaigrette

8 large beet greens, stems removed 
Recipe
soak almonds in water for 8 hours, or overnight
soak brazilnutss in water for 8 hours, or overnight
Drain the nuts thoroughly, and put them in a food processor. Add the basil, salt, and flax oil. Process until a rough paste forms. Scrape into a small bowl.
Put the onion, celery, grated beets, lemon zest, and balsamic vinaigrette in a medium bowl and mix well.
Hold a beet leaf in one hand, with the ribs facing down. Scoop about 1 tablespoon of the almond mixture onto the wider end of the leaf, and spread it out slightly. Top with about 1/8 of the beet mixture. Roll the leaf up, enclosing the filling.
Eat, repeat.
Nutritional information
Nutrition Facts
Serving Size 1 Raw Beet Wrap
Servings Per Batch 2
Amount Per Serving
Calories372
Calories from Fat 302
% Daily Value *
Total Fat 34g
52%
Saturated Fat 6g
30%
Monounsaturated Fat 15g
Polyunsaturated Fat 10g
Trans Fat 0g
Cholesterol 0g
0%
Sodium 2mg
0%
Potassium 395mg
11%
Total Carbohydrate 16g
5%
Dietary Fiber 6g
23%
Sugars 2g
Protein 10g
20%
Vitamin A
3%
Vitamin C
8%
Calcium
12%
Iron
6%
* The Percent Daily Values are based on a 2,000 calorie diet, so your values may change depending on your calorie needs. The values here may not be 100% accurate because the recipes have not been professionally evaluated nor have they been evaluated by the U.S. FDA.