Barbaras unique oatmeal
Main Ingredient: oats
Meal Type: Breakfast
Food Type: Vegan
Level:Easy
Prep Time:5 minutes
Cook Time:4 minutes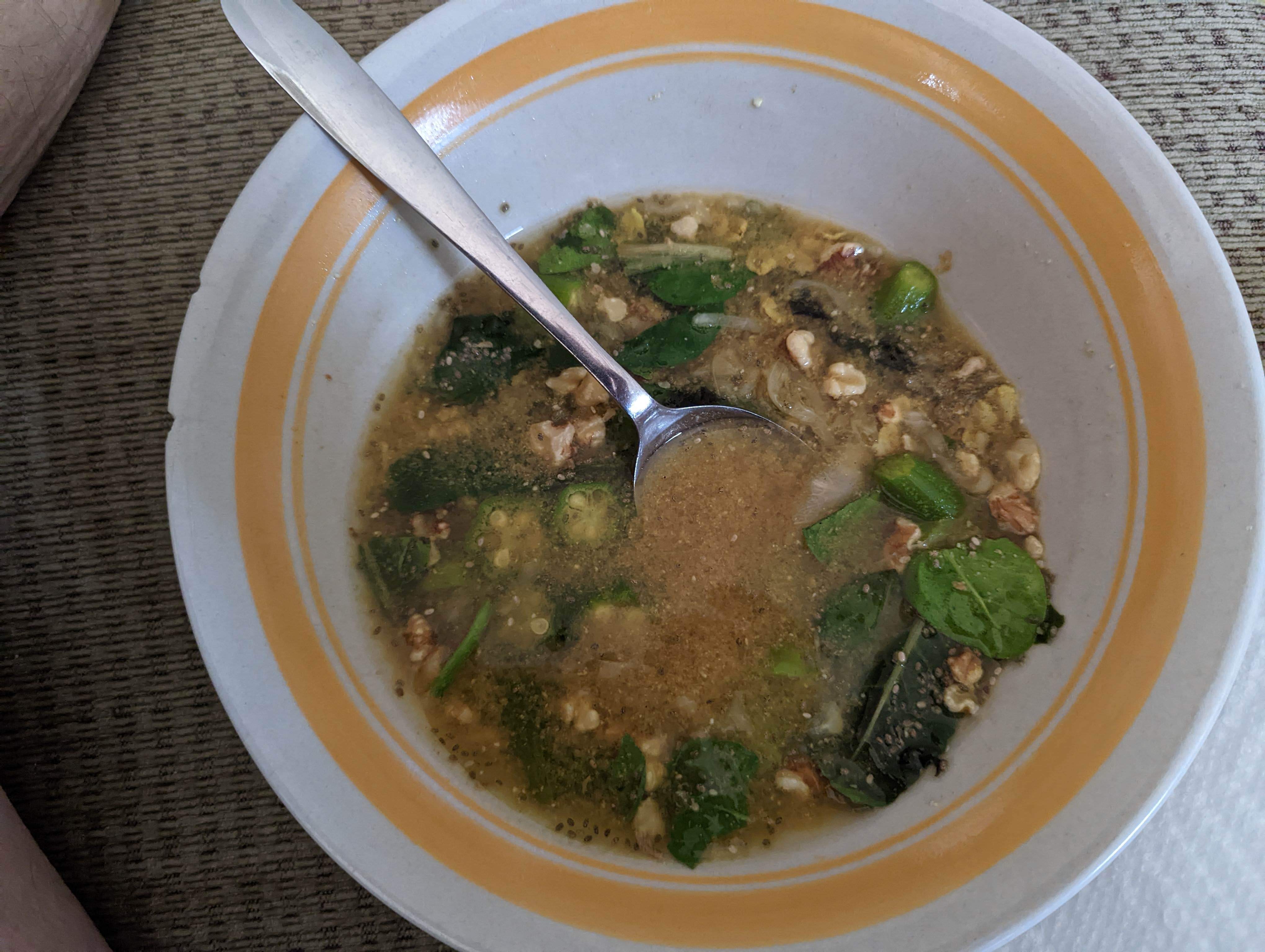 This is an amazing recipe my wife Barbara created for me. It 's a unique twist on the normal oatmeal that we eat. It contains many different kinds of vegetables depending upon her mood. Many times she adds okra, tomatoes and super greens. She adds Indian spices, cilantro, miso and sriracha chili. For the more she adds chia seeds and flax seeds. It is very nutritious. I found my blood sugar levels go down after eating this meal. Most people have a spike in blood sugar levels after eating a male.  
Ingredients
1 tsp, leaves oregano
1 tbsp curry powder
1 tsp coriander | coriander powder
1 sprigs fresh Coriander | Coriander | cilantro | fresh cilantro
1/4 cup Okra
1/8 cup Sauerkraut
1/16 cup Miso
1 oz chia seeds
1/4 tbsp, ground flaxseed
1 cup Oats
2 cups water
Recipe
Recipe
Add water to pot. Turn heat to high. When water boils at the oatmeal and the spices. If you have fresh oregano use that instead of the dried. It will give a more unique flavor to the dish. Add the vegetables. Turn heat to medium. Set the timer for 4 minutes. Poor oatmeal and serving bowl. And your kimchi, miso and fresh cilantro.
Nutritional information
Nutrition Facts
Serving Size 1 Barbaras unique oatmeal
Servings Per Batch 2
Amount Per Serving
Calories314
Calories from Fat 84
% Daily Value *
Total Fat 9g
14%
Saturated Fat 1g
6%
Monounsaturated Fat 2g
Polyunsaturated Fat 5g
Trans Fat 0g
Cholesterol 0g
0%
Sodium 402mg
17%
Potassium 445mg
13%
Total Carbohydrate 49g
16%
Dietary Fiber 13g
52%
Sugars 2g
Protein 12g
23%
Vitamin A
16%
Vitamin C
15%
Calcium
17%
Iron
5%
* The Percent Daily Values are based on a 2,000 calorie diet, so your values may change depending on your calorie needs. The values here may not be 100% accurate because the recipes have not been professionally evaluated nor have they been evaluated by the U.S. FDA.